A DOCUMENTARY BY JEREMY ROBINS
AND MAGALI DAMAS
JEREMY ROBINS (director, co-producer) is a media educator and filmmaker with a passion for visual storytelling. In early 2004 he produced and directed "The Cause of Pierre Toussaint," a documentary on a 17th Century Haitian former slave who is now being considered for sainthood by the Catholic church. He worked for POV, editing and designing curriculum for "POV's Borders" (2002), a web-based documentary exploring migration and adolescent identity. He's recently worked as a field producer for MTV's True Life, and has worked as a Director of Photography on shows for PBS and the Hartley Film Foundation. As an educator, he teaches production classes at Downtown Community Television (DCTV), and has led documentary projects with NYC public high school students since 1998. He has also written for The Independent Film & Video Monthly and the Brooklyn Rail.

MAGALI (MAGI) DAMAS (co-producer) has worked the past fifteen years in video production, festival organization, and civic activism. In 2004, she co-produced "The Cause of Pierre Toussaint," and co-directed a music video for Djarara which was featured on the national cable broadcast of "Democracy Now!" with Amy Goodman. As an Associate Producer at West Indies Productions, Haiti from 1998 to 2002, she has help produce and promote over forty music videos, commercials, and documentaries. She's currently the video coordinator for HaitiXchange.com,and works in a variety of production roles for Metrovision Production Group, NYC. From 2000 to 2002 she helped organized Haiti second largest festival "Gelee," in Les Cayes, as well as a Rara festival in Paillant. She works tirelessly to promote Haitian culture both here and in Haiti.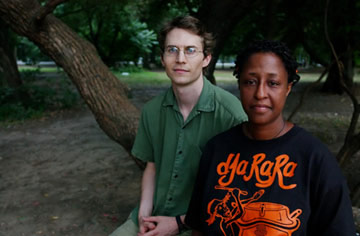 ...

.Coming to Public Television in 2011
Purchase a DVD HERE
Learn More and Join the Conversation:
Production Diary (blog)
Twitter Feed (microblog)
Discussion Boards (HaitiXchange.com)
visit our Flickr Photostream Here
Share: